The Process of Creating Impact
We believe in examining assumptions early on and developing in-feature based steps, so we an build it right and build for impact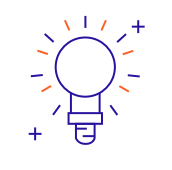 Understand the problem
We start with a real-world problem and an idea on how to make a positive impact on people's lives. Then we do research and talk to the people affected. We make it clear what goals we want to achieve so we have a solid base upon which to imagine possible solutions.
Design
With a few possible solutions proposed, we quickly create prototype designs. These are in the simplest form that we can possibly show to users. No coding is done so far.
We like you to be involved in this process, so that the knowledge is shared and everyone can contribute their perspective.
Test on users
We test the prototype on users. This is crucial to creating a product that will be useful. Too many project leapfrog this step and end up with false assumptions and an end product which is not useful. And if it is not useful, it is not successful. By testing our theories, we learn more about the user's world, and if an assumption proves to be false, or if a better solution presents itself, we can quickly course-correct.
Learn
We learn draw conclusions from the testing experience. We make a new iteration of the design based on what we've learned and test it again to confirm our hypotheses. By this time it should become clear whether the product should be a mobile app, webb app or another kind of solution.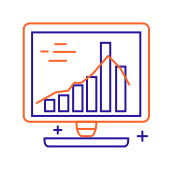 Develop
The development is divided up into sprints. Sprints are two or three weeks in time with a set of subgoals that together add up to the final product. After each sprint we have a demo for you and invite feedback and thoughts.
Technical testing
As well as continuously demoing and testing important features on users, we test the systems robustness to high usage and attacks, find and eliminate bugs. In most cases we make a beta release to a smaller group of people to test the product in real situation use before the v.1 release.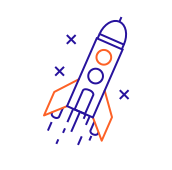 Launch
Your product is now out in the world, solving a real problem. The journey does not end here, there are still opportunities to learn and improve. With your product in live use the data and feedback we get now is invaluable. On that base we can form new hypotheses to test on users, iterate and keep on improving.
Our only work mode is engaged and we will give our professional opinions. We cannot stay on the sidelines, we are on your team and want to see the project reach success.
Do you need help with development or design?
If you have a social impact project you would like to collaborate on – get in touch! We can discuss it over a nice cup of coffee.
What have we built this way?
CO2CO2puff aims to make the invisible problem of air pollution clear and actionable. Check out this and more examples of our work.
If you have a social impact project you would like to collaborate on, get in touch! We can chat over a cup of coffee.
Warning: A non-numeric value encountered in /customers/6/1/2/bothofus.se/httpd.www/wp-content/plugins/elementor/includes/libraries/bfi-thumb/bfi-thumb.php on line 745 Warning: A non-numeric value encountered in /customers/6/1/2/bothofus.se/httpd.www/wp-content/plugins/elementor/includes/libraries/bfi-thumb/bfi-thumb.php on line 748 Warning: A non-numeric value encountered in /customers/6/1/2/bothofus.se/httpd.www/wp-content/plugins/elementor/includes/libraries/bfi-thumb/bfi-thumb.php on line 750 Warning: A non-numeric value encountered in /customers/6/1/2/bothofus.se/httpd.www/wp-content/plugins/elementor/includes/libraries/bfi-thumb/bfi-thumb.php on line 745 Warning: A non-numeric value encountered in /customers/6/1/2/bothofus.se/httpd.www/wp-content/plugins/elementor/includes/libraries/bfi-thumb/bfi-thumb.php on line 748 Warning: A non-numeric value encountered in /customers/6/1/2/bothofus.se/httpd.www/wp-content/plugins/elementor/includes/libraries/bfi-thumb/bfi-thumb.php on line 750